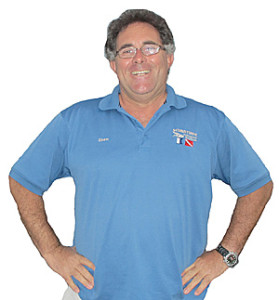 Enzo Varalla
Scubatyme III Owner
Enzo Varalla has 20 years of diving experience in Europe, Africa, the Caribbean and the USA including, naturally, South Florida. He is a PADI Instructor since 1999 which enabled him to juggle his passion for diving with corporate life, who doesn't dream of the big escape? Enzo had been a loyal Scubatyme customer since 1994, so when the business came on the market in 2006, he happily left Italy and corporate world for a new adventure. You'll see him on the dock getting you checked in, on board as mate, and in the water as a guide for diving groups. Expect service with a smile. He may be a native Italian, but let's just say he's found "La Dolce Vita" here in South Florida.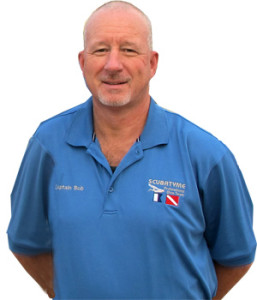 Robert Wranovics, Jr.
Captain Bob
Robert Wranovics Jr. (Captain Bob) hails from NY. A retired NYPD refugee, Bob has loved the ocean for years. In his spare time from the force, he worked on the fishing boats off the East Coast & took regular trips to Florida for the fantastic diving. When he retired, he decided the warm blue waters were where he wanted to be every day. A licensed boat captain since 1978, he currently holds a 100 ton USCG Masters license, and is a PADI instructor as well. He joined Scubatyme Charters in 2009 where he has found his second home. If you are from NY, I am sure he will know someone you know.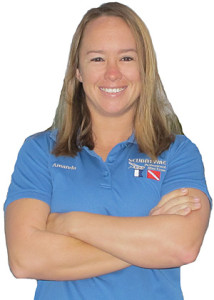 Amanda Landress
Divemaster
There are those that claim that Arkansas has some decent diving, but when you are as passionate about the sea as Amanda, you just have to find a state with more coastline. Armanda arrived in Florida in 2004 and joined the Scubatyme III crew soon after. In addition to diving and diving and diving, she also finds occasional moments to follow studies in criminal justice and anthropology.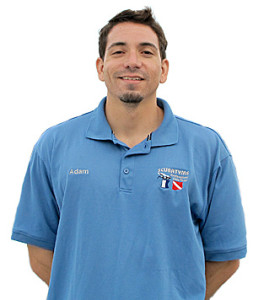 Adam Nardelli
Divemaster/Instructor
Growing up, Adam Nardelli racked clams and fished in the waters of the Long Island Sound. He is now a long way from those colder northern waters, but still the sea holds him in it's rapture and has influenced his life's work. He has over 13 years of experience diving in many of the corners of the world. He has a bachelor's degree in biology from the University of Tampa and a Master of Science degree from the Nova Southeastern Oceanographic Center, studying the control and monitoring of the invasive Indo-Pacific Red Lionfish.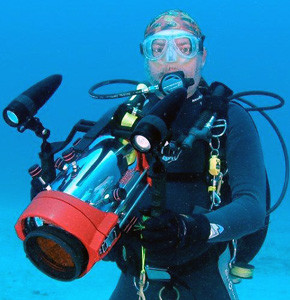 Doug Barkley
Videographer/Divemaster/Instructor
Doug Barkley has been a professional underwater videographer since 1999, shooting video for such diverse clients as National Geographic, the Coral Restoration Foundation and the Neptune Society, as well as various dive shops and charter boat operators from Jupiter, FL to the Florida Keys. A certified SCUBA diver since 1980 and currently certified as a NAUI/SDI/TDI SCUBA Instructor, he has traveled all over the Caribbean and South Florida bringing memories of the underwater world back for everyone to see. His creative "eye" and ability to get "up close and personal" with the creatures of the sea makes his videos interesting enough for even non-divers to enjoy!
Scubatyme III "Behind-the-Scenes" Photos
Use the arrows to view photos or click on a photo to see the full gallery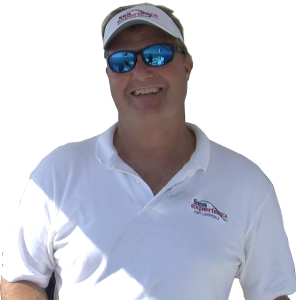 Captain Bill has been running dive/snorkel vessels for over 30 years and is one of the most experienced boat captain's in South Florida. Bill started diving on his honeymoon in Grand Cayman in 1977 and it's been hard to keep him out of the water ever since. Completing scuba instructor training in 1979, Bill began teaching diving at the University of Georgia. In 1988, Bill brought the first glass bottom boat to Fort Lauderdale that ran daily charter. He had spent the previous year training the fish on a shallow reef that he named "Fort Lauderdale Twin Ledges". To this day the fish come to greet the boat when it arrives at the site.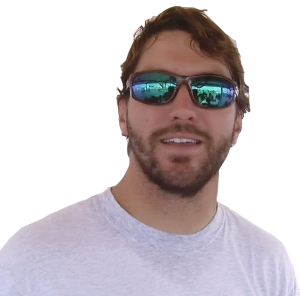 Rob was born in Texas and grew up in Arizona. Despite growing up in such an arid climate, Rob always had a love of the water, be it swimming, skiing, or snorkeling. After graduating high school, he lived in several states throughout the country before settling in Indiana for 18 years. While living in Indiana he discovered sailing and finally indulged his desire to experience life at the bottom of the ocean. Rob received his Open Water Diver certification in 1998.  In 2013, the love of water overtook Rob and he left his previous career to become a professional scuba diver and boat captain. Rob is now enjoying the sweet life of a 50 ton Captain with sail endorsement and PADI Dive Instructor.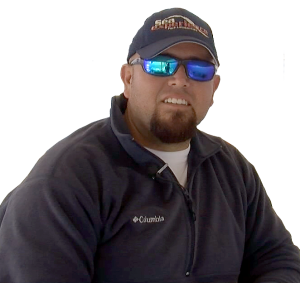 Captain Mateo is also a PADI Staff Instructor. Mateo enjoys scuba diving and sharing those experiences with others. Mateo's passion is working on the ocean. He enjoys passing on the knowledge he has to students and to teach them to dive with respect to the marine life and to leave only bubbles! He has been diving since 2000 and became a PADI Instructor in 2006. Mateo has dived Florida and the Bahamas.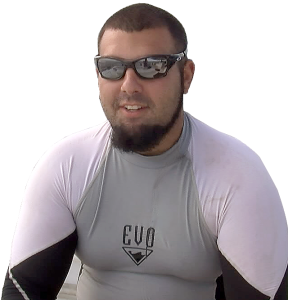 Brennan Arminoei
Divemaster/Instructor
Originally from North Carolina, Brennan's passion for diving was inherited from his father who was an avid diver that had always wanted to be an Instructor. Brennan became certified in July 2011 and earned his PADI Instructor certification in April 2012. He can always be counted on to have a smile on his face and having a great time working with the Sea Experience II scuba divers, snorkelers and students. Brennan's next goal is to reach MSDT status and then go on to PADI Staff Instructor. He has dived Florida and Mexico.
Sea Experience II "Behind-the-Scenes" Photos
Use the arrows to view photos or click on a photo to see the full gallery